ODF tool Sort DAC not working
For the ODF database you can use 'Sort DAC' (FTTH -> ODF contractors -> Sort DAC). Witch the 'Sort DAC' tool you can point out/set the starting point wher the splicing begins (default is 1 meter). Please image below:





It First sorts on the overlapping direction. The direction is determined after x meters after the DP. This can be manually set by the user.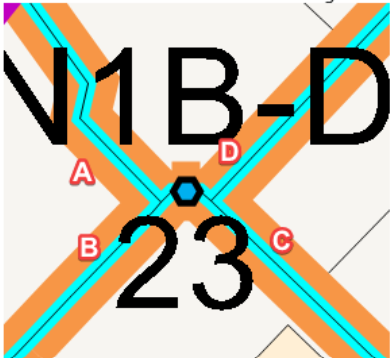 After that the tool sorts within these bundles first by house number and lastly by GeoLength
Sorting by length alone is not useful if a DP is in the middle of a DP cluster, and that is often the case.
Related Articles

DP Splicing tool

DP Splicing Tool The DP Splicing Tool is made for in the field changes on the fiber output of a DP. When starting the Splicing tool, you will first arrive at the login screen. Two roles can be defined for the DP Splicing Tool. Either you are an ...

Release 2022

Generic notes Numerous bugfixes; GeoWorks V2 rolled out: Complete overhaul of the existing GeoWorks with a modern, robust, and futureproof interface. Connect SubObjects V2 (pre-)released. Under further construction due to very active feedback (thank ...

Release 2022.5

Generic Notes Numerous bug fixes; HLD Wizard (in beta): create your HLD Designs automatically via an elegant wizard; DP Organizer added: one function to sort and reconnect clients and ducts on a DP; KadasterTools: divide in clients highrise button ...

Azure Blob Files in IMS

1. Introduction This new service allows IMS users to set up an external Azure container for saving files for certain functionality such as file Exports. This way anytime a user (in the same DB) generates an export file this will be saved in the ...

Release 2021

General improvements Speed of connection created using auto connectivity rules is substantial increased. In the Edit Model section the type of columns can be changed. In the Projects Panel all projects can be collapsed at once. In the Object Files ...